IM-1530 Tank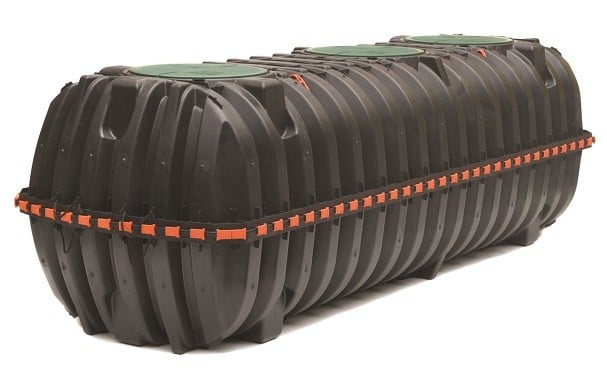 The Infiltrator IM-1530 is a lightweight strong and durable septic tank. This watertight tank design is offered with Infiltrator's line of custom-fit risers and heavy-duty lids. Infiltrator injection molded tanks provide a revolutionary improvement in plastic septic tank design, offering long-term exceptional strength and watertightness.
Do not install the tank in vehicular traffic areas. The tank is designed for non-traffic applications.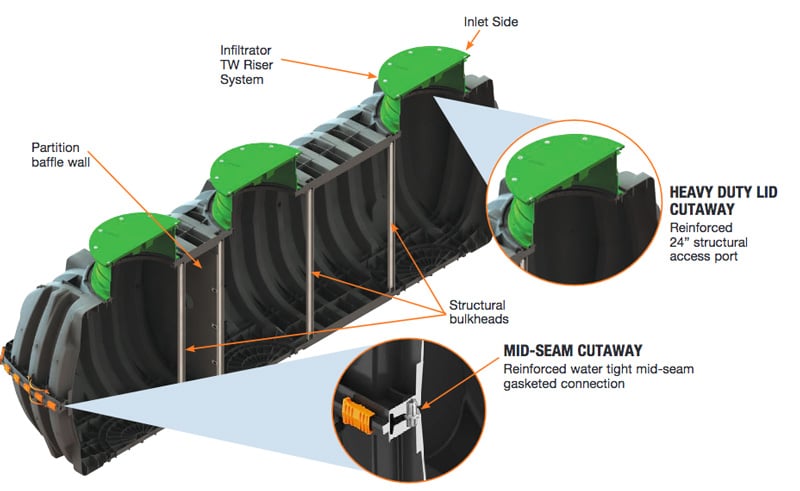 All IM-1530 tanks are a two-piece design that efficiently nests for shipping and are available through our network of certified Infiltrator distributors.
Find a Distributor ›
Contact an Expert ›
Specifications:
Size
62"W x 176"L x 55"H
(1567 mm x 4460 mm x 1384 mm)
Access Port
24" (610 mm)
Weight
501 lbs (228 kg)
Total Capacity
1787 gal (6765 L)
Working Capacity
1537 gal (5818 L)
Burial Depth
Minimum 6" (152 mm)
Maximum 48" (1219 mm)
Benefits:
Strong injection molded polypropylene construction
Lightweight plastic construction and inboard lifting lugs allow for easy delivery and handling
Structurally reinforced access ports eliminate distortion during installation and pump-outs
Reinforced structural ribbing and fiberglass bulkheads offers additional strength
Can be installed with 6" to 48" of cover
Can be pumped dry during pump-outs
Suitable for use as a septic tank, pump tank, or rainwater (non-potable) tank
No special installation, backfill or water filling procedures are required
No special water filling requirements are necessary
The tank may be backfilled with suitable native soil. See installation instructions for guidance.