FREE WEBINAR: Control Panels and Lift Station 101
Delaware - Onsite Septic System Contractors
Indiana - Professional Engineers
Iowa Onsite Wastewater Association - IOWWA - CIOWTS
Maine - Plumbing Inspectors
Maine - Site Evaluator
Maine - Voluntary Certification for On-Site System Contractors
Massachusetts - Soil Evaluator
Massachusetts - System Inspectors
National Environmental Health Association - NEHA
New Hampshire - Designers & Installers
New York - Land Surveyors
New York - Professional Engineers
North Carolina - Registered Environmental Health Specialist (REHS)
Ohio - Sewage Treatment System Contractors
This live webinar was recorded to view at your convenience.
Watch Now
---
Designing a lift station is a complicated process typically performed by civil and electrical engineers. There are many adopted methods of design, which yields almost endless options for methods of control. In this presentation, we will skim over the surface of basic lift station terminology, the common components of a lift station, design terminology, and typical control methods and touch on just a few of the options available in this vast world.
Speaker Biographies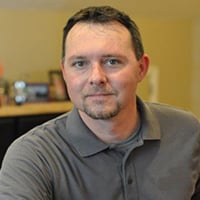 Aaron Burke, P.E., Wastewater Engineer
Aaron brings 17 years of experience to the Technical Services team at Infiltrator Water Technologies. He has worked in administrative project management, construction, engineering design, and has started two wholly owned companies. His expertise is in wastewater treatment process design and treatment plant operations. Aaron holds a Bachelor's degree in Civil Engineering from Rose-Hulman Institute of Technology and a Master's of Engineering in Civil Engineering from Norwich University, and is a licensed professional engineer, LEED accredited professional, and certified wastewater operator.
Nevin Bretz is a graduate of Southeastern Louisiana University, Hammond, Louisiana. He is currently a Project Manager for commercial wastewater treatment solutions for Delta Treatment Systems. He devoted almost 15 years designing control panels for the water, wastewater, and oil and gas markets at a panel shop in Baton Rouge, Louisiana. During that time, he has become fluent in troubleshooting and startups from simple pump stations to entire water/wastewater plants. That knowledge and experience along with a proficiency in instrumentation carried over to Pipe Tech where Nevin obtained certifications in training classes on electric motor operators, controls, and valves. Using a combination of high speed pressure analyzers and KY Pipe software, Nevin studied hydraulic pressure transients and how to solve water hammer problems. From there, Nevin spent several 3 years at Delta Process Equipment (a DXP company) performing startups, training, and troubleshooting on municipal and industrial equipment. He became fluent in centrifugal air compressors from 400HP to 2,000HP.
More Webinars