Infiltrator Expands Partnership with Habitat for Humanity into Canada
Posted on by Don Krauss
In Ontario, over 15% of families with limited family-based income are in need of safe, affordable, and healthy housing. By partnering with Habitat for Humanity, in local communities, they are able to carry out their mission of bringing people together to build homes, communities, and hope and further Habitat's vision of a world where everyone has a decent place to live.
We have been hearing a lot of news lately about the serious shortage of affordable housing in Canada. Many families are faced with living in unsafe and overcrowded conditions for raising their children.
I was fortunate to work with Habitat for Humanity Cornwall to support the home construction for their 16th Habitat Homeowners who was selected in 2020. Due to Covid restrictions and supply chain challenges the family could not take possession of their new home until the spring of 2022. Infiltrator Water Technologies partnered on this project as a Silver sponsor through the Habitat's Gifts in Kind (GIK) program donating the products that we manufacture to the construction of the septic system. An Infiltrator septic tank and ATL combined treatment dispersal system were the chosen products for the construction of the septic system. An IM-1530 septic tank, risers, and 270 feet of ATL was donated. Habitat Homeowners contribute as well by completing their required volunteer work alongside other volunteers, donors and trades professionals during the construction and then assume an affordable mortgage. In addition to our products being donated, local wastewater industry contractors and designers have also volunteered their support.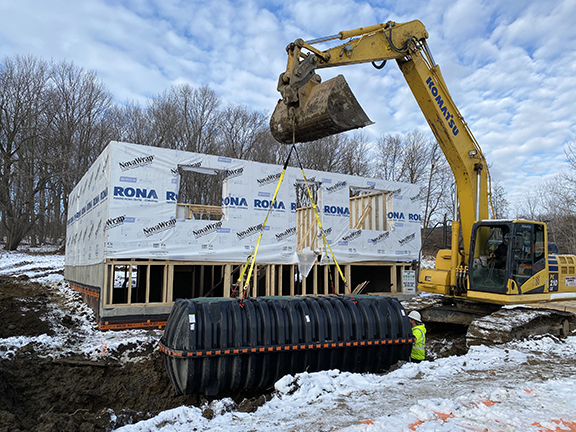 Habitat for Humanity is a nonprofit organization that helps families build and improve places to call home. Habitat also believes affordable housing plays a critical role in strong and stable communities. Infiltrator Water Technologies became a Corporate Partner of Habitat for Humanity International in 2017 through the GIK program donating over $260,000 USD worth of products for septic systems in over 160 builds for Habitat affiliates across the United States to date. This partnership with Habitat for Humanity Cornwall was the first that we have been involved with in Canada, however, we are excited to make it the first of many. The partnership that Infiltrator Water Technologies has with Habitat affiliates increases the opportunity for more Habitat Homeowners across Canada by adding rural building lots to the pool of available lot development that otherwise may not be affordable options. Providing the components for onsite wastewater systems as GIK allows for the funds not used on septic system components to be used on other materials that need to be purchased for the construction of a home.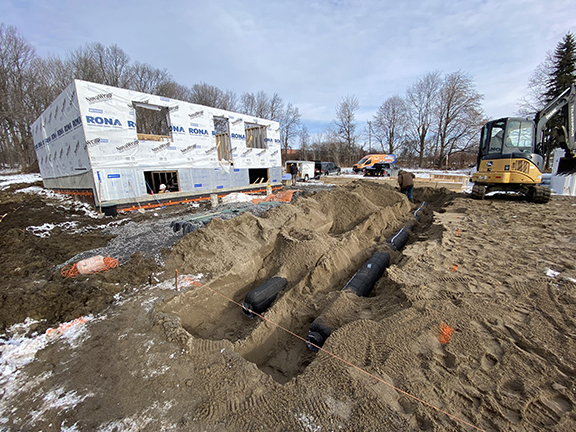 For over 30 years Infiltrator Water Technologies has led the industry in manufacturing a variety of innovative and environmentally friendly onsite wastewater components made with post-consumer and post-industrial plastics. Recycling over 150 million pounds of plastic each year to make products intended for use in recycling our most precious commodity, water. This makes Infiltrator one of the top 10 consumers of recyclable plastics in North America with approximately 30 million pounds coming from suppliers right here in Ontario.
We are excited to continue our partnership with Habitat for Humanity across the country. I hope that other Habitat affiliates across Ontario learn about our partnership and let Infiltrator help build strong and sustainable affordable housing across the province and country. If you are interested in helping in this great cause please contact your local Habitat affiliate.
About the Author:
Don Krauss


Area Sales Representative - Eastern Canada
Don has been the Eastern Canadian Area Sales Representative for Infiltrator Water Technologies for 18 years covering Ontario, Quebec, and the Atlantic Provinces. His experience and knowledge of the industry has earned him several sales and industry achievement awards over his tenure. Don has been involved with many Onsite Wastewater Associations during that time including holding the president position for the Ontario Onsite Wastewater Association (OOWA). He also currently participates on the Technical Advisory Committee for standards development and is a member of the Canadian Standards Association (CSA) for the B-65 Standard for onsite wastewater systems. Before moving to Ontario, he grew up in Saskatchewan where his career began in 1992 working for a wholesale distribution company in that province leading the initiative for the onsite wastewater market for that company. In the 11 years in that position, he conducted training workshops and worked with Saskatchewan Health to improve regulations and installation practice for septic systems.
Don is passionate about the industry; networking with industry interest groups from across the country he has worked coast to coast, learning as well as teaching and sharing what has been proven to work in one province with ones that are looking for solutions. Don spends a great majority of his time traveling across Ontario and other provinces working with all stakeholders. He most enjoys working in the field with installers to better understand how he can help them. Outside of work, he enjoys traveling with his wife and seeing all the beauty that Canada has to offer.
---
---