EZflow® Drainage System

EZflow Drainage Systems by Infiltrator are geosynthetic aggregate pipe systems for use in drainage applications. This gravel-free drainage system utilizes the time-proven principle used in gravel systems while eliminating the problems inherent with gravel. Our products provide maximum system life and performance, lower system costs, and an environmentally friendly alternative.
Configurations are available in 7" diameter bundles with or without a 3" pipe, 10" diameter bundles with or without a 4" pipe, and 15" diameter bundles with or without a 6" pipe.
Find a Distributor ›
Contact an Expert ›
Manuals, Guides & CAD Details ›
Specifications: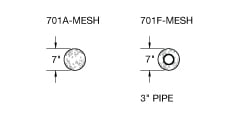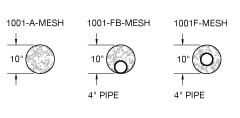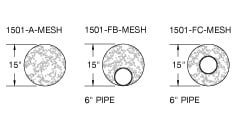 Benefits:
Convenient 10" long sections are easy to connect using internal couplers. EZflow products are easily transported and installed by a single worker, dramatically reducing labor costs
Superior flow rate when compared to gravel, due to lack of fines. EZflow drainage systems have high storage capacity created by the engineered flow channels in the aggregate
EZflow's aggregate pipe combination and aggregate-only bundles can easily bend around corners and other obstacles to conform to your project needs
Using EZflow recycled polystyrene aggregate prevents millions of pounds of waste from filling landfills
EZflow drainage products are reliable, which means fewer call backs
Download Foundation & Landscape Drainage Cutsheet ›
Download Downspout Drainage Cutsheet ›
Download Basement Drainage Cutsheet ›
Download Design and Installation Manual ›
FAQs:
Can EZflow Drainage System be installed around obstacles?
Yes. EZflow has virtually an unlimited ability to contour around existing obstacles.
What prevents soil from entering EZflow through the netting?
A geotextile mesh inside of the netting keeps soil from entering the bundles.