Delta Control Panels & Accessories
DFC Float Controls by Delta Treatment Systems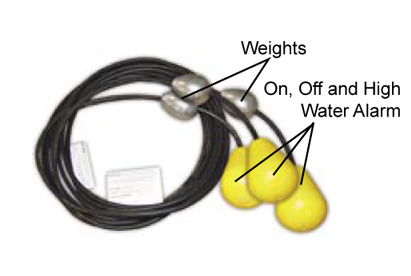 Delta's DFC float controls are an innovative approach to today's pump control system requirements with standard features unmatched by most competing products. Through the use of a standard sub-door and raised back panel DFC float controls offer a revolutionary design for housing common control panel features such as circuit breakers, start components, contactors, and a terminal strip.
Standard Features Include:
High water alarm – flashing red light with an electronic horn
Innovative touch to silence pad
Non-conductive injection molded sub-door
Manual settings for on/off and alarm levels
Battery back-up for high level alarm
Lockable latches
User adjustable
NEMA 4X enclosure
In addition to unsurpassed standard features Delta's DFC float controls offer an exclusive control circuit board that is conveniently located on the sub-door the float indication lights allow the user to see the status of each float and flashes should a float fail.
---
Delta Septic Alarms and Septic Control Panels

Delta's alarm and control panels are the intelligent choice in control panel technology. We manufacturer a variety of control panels designed to meet the needs of your next job.
All panels can be supplied with U.L. and/or Canadian U.L. 508A listings upon request. Custom panels can also be furnished to meet specific local requirements.
Model CP20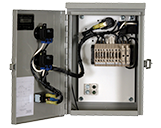 Compressor
High level alarm / audible-light
NEMA 3R steel enclosure
Model CP40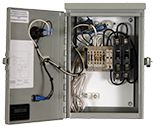 Compressor
Dosing pump
High level alarm / audible-light
NEMA 3R steel enclosure
Model CP42T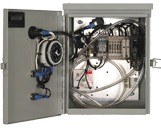 Compressor
Dosing pump
High level alarm / audible-light
NEMA 3R steel enclosure
24 hr. time clock with 15 minute on/off intervals
3 breakers (Compressor, pump, control)
Model CP52T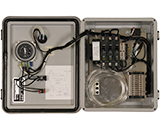 Compressor
Dosing pump
High level alarm / audible-light
Dual pressure switch for high level alarm and compressor fail
NEMA 4X fiberglass enclosure
24 hr. time clock with 15 minute on/off intervals
Model CP52RCT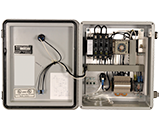 Compressor
Dosing pump
High level alarm / audible-light
Dual pressure switch for high level alarm and compressor fail
NEMA 4X fiberglass enclosure
Programmable timer (seconds / minutes / hours)
Model CP8115V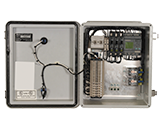 Auto Headworks Filter Control
Dosing pump
Time dosing
High and low level alarm / audible-light
Override timer
Hydraulic zoner compatible
Numerous other functions & indicators
Model CP9115V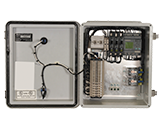 Auto Headworks Filter Control
Dosing pump
Time dosing
High and low level alarm / audible-light
Override timer
Electric solenoids compatible (up to 8 fields)
Numerous other functions & indicators
---
Liquid Level Float Switches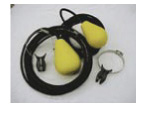 Mini mercury high liquid float switch complete with bracket
Pump mercury float switch complete with bracket
115 volt, single phase; 14 amp rating
115 volt, single phase; 14 amp rating