Aquaworx Remediator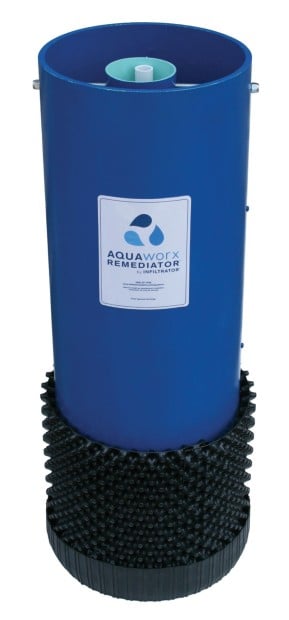 The Aquaworx Remediator is a simple, easy-to-install septic system remediation technology that rejuvenates a failing leachfield with minimal landscape disruption. This unique system is inserted into an existing septic tank of a malfunctioning system and reverses the drainfield clogging process.
Find a Distributor ›
Contact an Expert ›
Specifications:
Column Diameter:
12" at top; 15" at base
Height:
36"
Weight:
38 lbs
Handled Flow:
600 gallons per day
Tank Depth:
40" – 84"
Septic Tank Volume:
500 – 2,000 gal
Benefits:
Eliminates the need for a complete drainfield replacement and the resulting landscape damage caused by heavy equipment
Problems associated with a failing septic system such as odors and wet areas in the yard are eliminated in as little as 2 weeks
Environmental solution that strengthens the natural process of wastewater treatment and groundwater recharge
Easy installation with no heavy equipment allows for minimal disruption and quick return on investment
Permanent, non-invasive solution that requires minimal cost to operate and maintain