Advanced Treatment Leachfield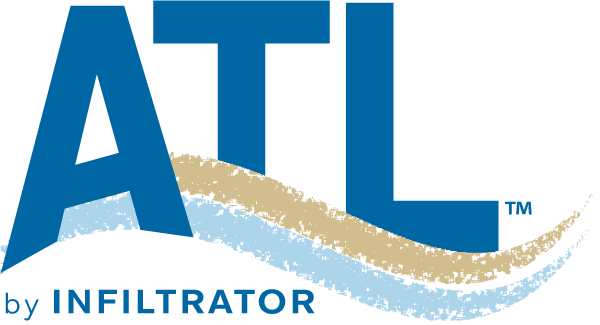 Advanced Treatment Leachfield by Infiltrator is a passive advanced leachfield treatment system designed as an environmentally friendly alternative to traditional stone and pipe drainfields. The ATL system is a sand-lined treatment and dispersal leachfield system consisting of 6 components.
Find a Distributor ›
Contact an Expert ›
Manuals, Guides & CAD Details ›
How It Works
Upon entering the system, septic tank effluent progresses through each component listed below.
4" diameter pipe
Large-diameter synthetic aggregate
Fine geotextile
Small-diameter synthetic aggregate
Coarse geotextile
6" thick system sand
Upon exiting the system sand, the treated effluent enters the underlying native soil.
Benefits:
Testing in accordance with NSF/ANSI 40 has determined that the ATL system is capable of treating domestic strength wastewater to Class I levels.
A passive advanced leachfield treatment – no moving parts or power required
Modules are quick and easy to install
Shallow system maximizes site suitability and reduces amount of sand fill required
No venting and sand cover requirements
FAQs:
Can the roof vent be used as the high vent?
The house (roof) vent functions as the high vent as long as there are no restrictions or other vents between the low vent and the (roof) vent. Please visit the Venting section for more information on recommended vented techniques.
Do septic systems freeze in extremely cold conditions?
Onsite Wastewater Systems (septic systems) have been installed in cold weather regions for quite some time. If designed and installed properly per code then the systems typically have not froze. Factors such as the temperature of the water exiting the home and proper burial depth of your septic system (septic tank(s) and drainfield) help to ensure adequate system performance. For additional guidance, please contact a licensed septic contractor in your area.