FREE WEBINAR: Decentralized Wastewater System Design: Collection, Treatment, and Dispersal
Delaware - Onsite Septic System Contractors
Indiana - Professional Engineers
Iowa Onsite Wastewater Association - IOWWA - CIOWTS
Maine - Plumbing Inspectors
Maine - Site Evaluator
Maine - Voluntary Certification for On-Site System Contractors
Massachusetts - Soil Evaluator
Massachusetts - System Inspectors
National Environmental Health Association - NEHA
Nebraska - Onsite Wastewater System Contractors
New Hampshire - Designers & Installers
New York - Land Surveyors
New York - Professional Engineers
North Carolina - Registered Environmental Health Specialist (REHS)
Ohio - Sewage Treatment System Contractors
This live webinar was recorded to view at your convenience.
Watch Now
---
Abstract

What options do engineers have when designing large onsite wastewater treatment systems with strict effluent limits when a municipal sewer is out of sight and out of budget? The decentralized option has the ability and flexibility to meet the needs of these projects, which may include privately owned commercial jobs like restaurants, resorts, and mobile home parks, all the way up to small communities, stadiums, and airports with flows in excess of 250,000 gpd. This presentation will review some design considerations for the 3 major aspects of a decentralized wastewater treatment system; collection, treatment, and dispersal.
Collecting the wastewater is the first challenge in the design process, especially when a commercial kitchen is involved or if it's coming from multiple homes. Next is treating the wastewater. With a growing trend towards cleaner water and nutrient removal, treatment technologies and processes have advanced to meet the needs of our changing regulations. Finally, the system must have the ability to disperse of the wastewater even with difficult site conditions, such as poor soils, sloped land, high groundwater, and limited room available.
Engineers have the design flexibility and support from manufacturers to provide their client with a cost effective and reliable solution to handle their wastewater need
Speaker Biography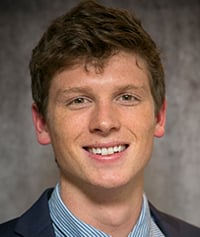 Chris Strycharz, P.E., Sales Engineer
Chris joined Infiltrator Water Technologies in 2015 after graduating from the University of Connecticut with a BS in Civil Engineering. Starting his career as a Project Engineer, Chris worked with the Technical Services Department assisting customers on the design of residential and commercial onsite wastewater systems, as well as contributed to the R&D of new products. Chris recently took on a new role as a Sales Engineer. He is now responsible for providing technical assistance to engineers and contractors on the design of commercial and decentralized wastewater treatment systems.
More Webinars