FREE WEBINAR: Advanced Tank Design and Materials Expand Onsite Applications
Delaware - Onsite Septic System Contractors
Indiana - Professional Engineers
Iowa Onsite Wastewater Association - IOWWA - CIOWTS
Maine - Plumbing Inspectors
Maine - Site Evaluator
Maine - Voluntary Certification for On-Site System Contractors
Massachusetts - Soil Evaluator
Massachusetts - System Inspectors
National Environmental Health Association - NEHA
New Hampshire - Designers & Installers
New York - Land Surveyors
New York - Professional Engineers
North Carolina - Registered Environmental Health Specialist (REHS)
Ohio - Sewage Treatment System Contractors
This live webinar was recorded to view at your convenience.
Watch Now
---
In decentralized wastewater treatment system applications, the need for compact systems for small lots and for systems in environmentally sensitive areas, including advanced treatment, is serving as a catalyst for tank innovation. The evolution and diversity of tank design and materials provide options that are generating new applications in the wastewater treatment system design arena. Communities and homeowners are increasingly concerned with improving the quality of effluent discharged back into the environment and tank technology is helping to make that achievable.
New tank designs are durable, allow for easy transportability to remote and challenging sites, and can house a variety of advanced systems that are increasingly popular where limited site size, remote or challenging site location or topography, unfavorable soil conditions, or proximity to a watershed or body of water eliminate the traditional septic system option.
In all systems utilizing tanks, proper installation is critical for maintaining structural integrity and watertightness. Inflow and infiltration in any tank compromises treatment and can ultimately result in failure.
Speaker Biography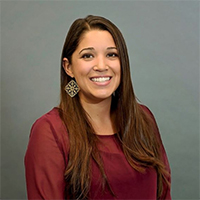 Rachael Atienzar,
Project Engineer

Rachael joined Infiltrator Water Technologies (Infiltrator) in January 2019 as a Project Engineer. She graduated with her B.S. in Geology from the University of New Orleans 2015. After graduation she worked for an engineering consultant as a staff geologist in the New Orleans and Hartford areas. Rachael spends her time at Infiltrator working on commercial and residential septic system design, product regulation, and research and development initiatives.
More Webinars