FREE WEBINAR: Wastewater 102: Introduction to Ten States Standards
Delaware - Onsite Septic System Contractors
Indiana - Professional Engineers
Iowa Onsite Wastewater Association - IOWWA - CIOWTS
Maine - Plumbing Inspectors
Maine - Site Evaluator
Maine - Voluntary Certification for On-Site System Contractors
Massachusetts - Soil Evaluator
Massachusetts - System Inspectors
National Environmental Health Association - NEHA
New York - Land Surveyors
New York - Professional Engineers
North Carolina - Registered Environmental Health Specialist (REHS)
Ohio - Sewage Treatment System Contractors
This live webinar was recorded to view at your convenience.
Watch Now
---
Recommended Standards for Wastewater Facilities, often known simply as Ten States Standards, was created by a collection of Great Lakes Upper Mississippi River Basin states. It provides a concise specification of wastewater treatment design standards for surface water discharge projects. These standards are often adopted by other states in various forms, and the concepts described in the standard represent the minimum level of analysis of a mechanical wastewater treatment solution. This webinar will cover the three most common design categories: Chapter 70 Settling, Chapter 92 Activated Sludge biological treatment, and Chapter 102 Chlorine Disinfection.
Speaker Biography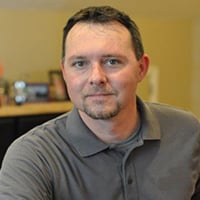 Aaron Burke, P.E., Wastewater Engineer

Aaron brings 17 years of experience to the Technical Services team at Infiltrator Water Technologies. He has worked in administrative project management, construction, engineering design, and has started two wholly owned companies. His expertise is in wastewater treatment process design and treatment plant operations. Aaron holds a Bachelor's degree in Civil Engineering from Rose-Hulman Institute of Technology and a Master's of Engineering in Civil Engineering from Norwich University, and is a licensed professional engineer, LEED accredited professional, and certified wastewater operator.
More Webinars