FREE WEBINAR: Where Wastewater gets Recycled by Recycled Products
Indiana - Professional Engineers
Iowa Onsite Wastewater Association - IOWWA - CIOWTS
Maine - Plumbing Inspectors
Maine - Site Evaluator
Maine - Voluntary Certification for On-Site System Contractors
Massachusetts - Soil Evaluator
Massachusetts - System Inspectors
National Environmental Health Association - NEHA
New York - Land Surveyors
North Carolina - Registered Environmental Health Specialist (REHS)
This live webinar was recorded to view at your convenience.
Watch Now
---
Much has changed in the world of recycling in the past 10 years. The rate of these changes will seem to be at a snail's-pace compared to the changes in front of us over the next 10 years. One cannot speak to the plastics recycling market without addressing the North American plastics market as a whole. Now leaders in cost-effective plastics production, North America is challenged to recycle its finished goods products in a cost-effective way. This webinar will cover some basic information as it relates to plastics recycling in North America. A review of terms and technologies will be followed by discussion of the major issues of today, and those to be played out in the coming years.
Speaker Biography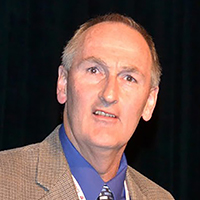 Dave Smith, Champion Purchasing Manager

Dave graduated from the University of Waterloo in 1984 with a Bachelor of Science degree in Polymer Chemistry. Worked for The Dow Chemical company for 20 years in the polyolefins business in both Sarnia, Ontario, Canada, and Freeport. Texas, USA. Roles included application development and technical support with end use customers, fabrication, and testing materials lab supervision, and quality leadership in Six Sigma. Currently working at Infiltrator Water Technologies for the last 15 years, first as Quality Director and process and materials development roles and currently as the manager of the Champion purchasing group. Champion purchases more than 120 MM lbs. per year of recycled materials to make their onsite wastewater and septic products. As such, Infiltrator has a unique position in the recycling market as both a convertor and brand owner.
More Webinars