FREE WEBINAR: Advanced Treatment Technologies – What, How and When to specify?
This course is approved for
1 credit hour
in:
Indiana - Professional Engineers
Massachusetts - Soil Evaluator
Massachusetts - System Inspectors
New York - Land Surveyors
Ohio - Sewage Treatment System Contractors
Iowa Onsite Wastewater Association - IOWWA - CIOWTS
National Environmental Health Association - NEHA
Join us for a FREE live webinar hosted by Infiltrator Water Technologies featuring members of our team. Please note all webinar times are Eastern Standard time.
Watch Now
---
When tasked with designing an onsite wastewater treatment system, you may find that the options for technology choices can be overwhelming. Finding the best solution that will satisfy project specific needs while also meeting regulatory requirements can be simple and pain free, if you are familiar with the different types of technologies and when each is most applicable. This presentation will review the differences between standard anaerobic septic design, and two different types of aerobic advanced treatment technologies – suspended growth and fixed film. We will briefly cover an overview of how each treatment technology works to degrade organics in wastewater while reducing effluent solids, what components are involved with each system, and what factors and applications might influence the decision of using one technology vs another. This presentation will focus on high level general aspects and is ideal for installers, designers, or equipment distributors that are new at one or more of the above- mentioned technologies.
Speaker Biography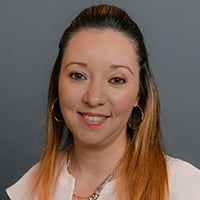 Brenda Faz
Delta Treatment Systems Commercial Project Manager

Brenda Faz is the Engineered Systems Specialist for the Southern Region of the United States at Infiltrator Water Technologies. Brenda assists developers and engineers in designing wastewater treatment systems that will optimize treatment performance for their projects. Prior to working for Infiltrator, Brenda spent 15 years in the environmental testing industry, doing bench scale treatability studies for municipal wastewater plants as well as standard analytical testing for soils and waters under both Standard Methods and ASTM methodologies. Brenda holds a Bachelor's Degree in Environmental Science from Texas A&M University, a Master's Degree in Environmental Management from the University of Maryland University College, and is currently a PhD student at Louisiana State University in the Environmental Science program.
More Webinars