Achieve Treatment with Minimal Maintenance Using Combined Treatment and Dispersal (CTD)
Delaware - Onsite Septic System Contractors
Indiana - Professional Engineers
Iowa Onsite Wastewater Association - IOWWA - CIOWTS
Maine - Plumbing Inspectors
Maine - Site Evaluator
Maine - Voluntary Certification for On-Site System Contractors
Massachusetts - Soil Evaluator
Massachusetts - System Inspectors
National Environmental Health Association - NEHA
Nebraska - Onsite Wastewater System Contractors
New Hampshire - Designers & Installers
New York - Land Surveyors
New York - Professional Engineers
North Carolina - Registered Environmental Health Specialist (REHS)
Ohio - Sewage Treatment System Contractors
This live webinar was recorded to view at your convenience.
Watch Now
---
Are you familiar with combined treatment & dispersal (CTD) in the same footprint for decentralized wastewater treatment applications? The objective of this presentation is to educate you on non-mechanical, non-biodegradable, low long-term life cycle cost systems for residential, commercial and community designs. This presentation covers topics including secondary treatment, passive oxygen transfer, system sand specifications, overview of Advanced Enviro-Septic (AES) system components, effluent quality, system design configurations and several examples of large flow decentralized CTD systems in use today.
Speaker Biography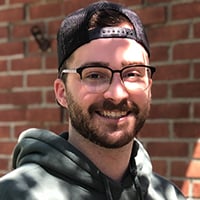 Kevin Moreau (EIT), Environmental Engineer

Kevin joined Infiltrator Water Technologies in 2021 as an Environmental Engineer after graduating with his B.S. in Civil Engineering from Western New England University. Prior to joining Infiltrator Kevin worked with a surveying crew allowing him to gain experience on septic system installation sites. Today he works with engineers and installers to design and draft residential and commercial septic systems and provide technical support.
More Webinars