Convenience Store Wastewater
Indiana - Professional Engineers
Iowa Onsite Wastewater Association - IOWWA - CIOWTS
Maine - Plumbing Inspectors
Maine - Site Evaluator
Maine - Voluntary Certification for On-Site System Contractors
Massachusetts - Soil Evaluator
Massachusetts - System Inspectors
National Environmental Health Association - NEHA
New Hampshire - Designers & Installers
New York - Land Surveyors
New York - Professional Engineers
North Carolina - Registered Environmental Health Specialist (REHS)
Ohio - Sewage Treatment System Contractors
This live webinar was recorded to view at your convenience.
Watch Now
---
Convenience stores are often constructed in areas that are not served by central sewers; therefore, onsite wastewater is their only option. The wastewater produced by these facilities is high strength and a conventional system is rarely a good option but are often utilized. This approach leads to failures and multiple replacement systems in a short time and has led to some store chains to avoid building utilizing onsite systems. This presentation will look at some of the commercial offerings of convenience stores and their impact on the wastewater stream. It will also offer some examples of operating convenience store wastewater influent and treatment trains that can provide a long-lasting solution.
Speaker Biography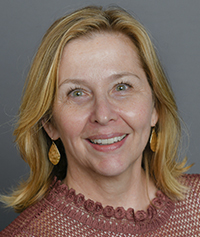 Allison Blodig, REHS
Wastewater Treatment Systems Specialist
Allison has been in the onsite wastewater treatment industry since 1997, first as a regulatory official and then in the wastewater treatment manufacturing industry participating in sales, regulatory affairs, design reviews, and training for a national treatment system manufacturer. Ms. Blodig had her own company for 3 years called GYST (Get Your "Stuff" Together) Consulting, specializing in regulatory consulting, market research, and training across the US. Currently she is a Wastewater Treatment Systems Specialist with Infiltrator Water Technologies, a leading developer of decentralized wastewater treatment technology. Along with a degree in Biology from Benedictine College in Atchison, KS, she has been a Registered Environmental Health Specialist and member of the National Environmental Health Association since She is also very active with the National Onsite Wastewater Recycling Association (NOWRA) and is the former chair of the Technical Practices Committee, current chair of the Conference Committee and participates in the Online Education Committee. She has participated in the NSF Joint Committee on wastewater, participating in task groups and annual meetings. Allison received the Women in Manufacturing award in 2012 and was the 2017 recipient of the Raymond Peat Lifetime Achievement award for outstanding achievement in the Kansas onsite wastewater field.
More Webinars