Design Considerations for Direct Discharge of Treatment System Effluent
Indiana - Professional Engineers
Iowa Onsite Wastewater Association - IOWWA - CIOWTS
Maine - Plumbing Inspectors
Maine - Site Evaluator
Maine - Voluntary Certification for On-Site System Contractors
Massachusetts - Soil Evaluator
Massachusetts - System Inspectors
National Environmental Health Association - NEHA
New Hampshire - Designers & Installers
New York - Land Surveyors
New York - Professional Engineers
North Carolina - Registered Environmental Health Specialist (REHS)
Ohio - Sewage Treatment System Contractors
This live webinar was recorded to view at your convenience.
Watch Now
---
There are many ways to dispose of treatment system effluent. The most common method of disposal is subsurface, but what happens when you have an application that requires direct discharge? What are the permitting guidelines and design considerations involved with direct discharge? In this presentation we are going to talk about direct discharge permit limits, the need for disinfection before direct discharge, and the different disinfection technologies that can be used to meet permit requirements.
Speaker Biography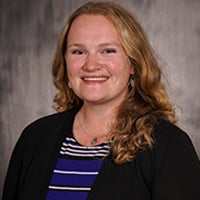 Stephanie Beadle, P.E.​, Wastewater Engineer
Stephanie is a Wastewater Engineer with Infiltrator Water Technologies. She is a professional engineer with 10 years of environmental remediation and process engineering experience, and she joined Infiltrator's Technical Services Team in 2022. Stephanie holds a BS in Environmental Engineering from Johns Hopkins University and an MS in Environmental Science and Engineering from the Colorado School of Mines. Stephanie is a process design engineer for Infiltrator's advanced wastewater treatment products, including the ECOPOD and ENVIRO-AIRE product lines.
More Webinars