Five Ways Infiltrator Products Positively Impact The Environment
Posted on
For over 30 years, Infiltrator has applied science and technology to further the onsite industry's goals of improved public health and better water quality. While we continue to make septic systems healthier, more reliable and longer-lasting, we are committed to manufacture products that also help to conserve our precious natural resources.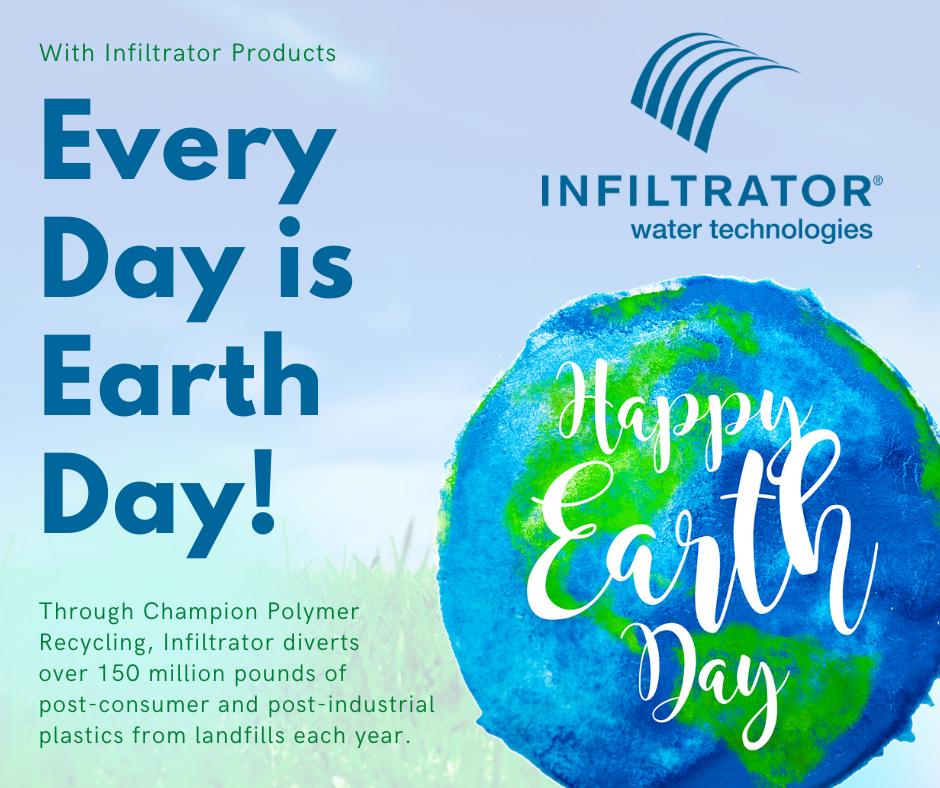 Infiltrator owns and operates one of the top 25 plastic recyclers in North America, Champion Polymer Recycling (Champion). Everyday Champion purchases and processes post-consumer and post-industrial plastics to manufacture Infiltrator products. This puts over 150 million pounds (75,000 tons) of recycled plastics to better, more environmentally friendly use every year. If the trucks that delivered this recycled material were lined up end-to-end, it would be over 40 miles long!
Here are five facts about how Infiltrator products positively impact the environment.
Approximately 95% of the plastic used to create Infiltrator products is recycled, with only five percent of the plastic being necessary material additives.
We seek polypropylene, polyethylene (LDPE & HDPE), polystyrene and materials (parts, purging, regrind, pellets) from the following industries: automotive, building materials, beverage and bottling, food processing, grocery/bakery, and distribution centers. Of the materials we procure 75% are post-industrial and 25% are post-consumer.
We have a proprietary processing method which allows us to utilize waste streams that are otherwise unusable to other recycling/manufacturing companies.
Each year our recycling efforts save approximately 765,000 barrels of oil*.
Our recycling efforts reduce CO2 emissions by approximately 100 tons each year*.
Learn more about Champion and our green initiatives here or watch the first few minutes of this video.
*Recycling a ton of polypropylene saves 10.2 barrels of oil. Recycling a ton of polypropylene reduce CO2 emissions by 1.32 tons. Sources: Argonne National Labs, DOE, Franklin Associates, Phillips 66 and Wellman
---
---