Six Wastewater Treatment Best Practices for Campgrounds and Recreational Vehicle (RV) Parks
Posted on by Allison Blodig & Aaron Burke P.E.
In the past year we've seen a shift in the way many people are vacationing. There's been a shift in demand for plane trips and hotel-based stays to motor homes and recreational vehicles (RVs). The increased interest in RV parks and campgrounds presents new challenges to property owners including wastewater treatment. Many of these parks are located well outside the boundaries of centralized sewer systems which means they require significant investment in decentralized treatment systems.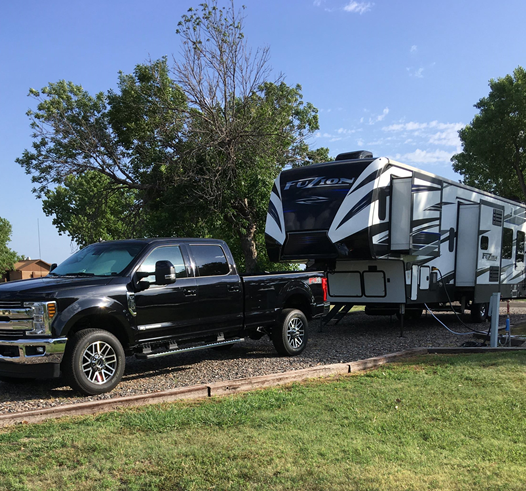 Most decentralized systems are small, aerated biological treatment units with some combination of mechanical treatment components. However, considering that the quantity of visitors can vary greatly from season to season and even week to week, the likelihood of finding a one-size-fits-all solution is quite low. The following strategies can be used to overcome these anticipated flow and load variations of designing a wastewater treatment solution for a campground or RV park.
Wastewater produced from an RV is emulsified and the design will need to include solids management. If the system chosen utilizes primary settling, this unit operation will need to be large to allow time for solids settling.
Utilize time dosing to spread flows throughout the day and week. RVs have holding tanks for both black and gray water that are periodically drained and flushed. This often takes place on Sunday as visitors pack up to leave after a weekend camping trip. This draining and flushing leads to surge flows and loads to the treatment system.
Evaluate system loading based on mass-balance instead of hydraulic loading to ensure proper reactor sizing.
Perform a sampling program to establish key influent wasteload parameters. Published values are fine if the estimates are conservative, but nothing is better than real-world data.
Size systems with two or more parallel biological treatment trains to allow the operator (if the permit allows) to shut down one or more trains as flows and loads change. Size pumping and air delivery systems accordingly to accommodate lower flow conditions.
Evaluate the choices available for treatment, and use technology proven to work on high strength wastewater that can handle seasonal shifts in flow and load. Systems utilizing attached growth microorganisms are known for their resilience in starvation conditions. This will help the system accommodate seasonal fluctuations and bring the system back to life in the spring when flows and loads increase.
We've had the opportunity of working with many campground and RV park owners to develop wastewater treatment systems. Here are a few examples of the solutions we have provided to these property owners.
Delta ENVIRO-AIRE Package Treatment Plant Enables Expansion and Reduces Maintenance at Texas RV Park
Innovative Evapotranspiration System Reduces Nitrogen and BOD Challenges for New Mexico State Park
Quick4 Standard Chambers Instrumental in Installation of Onsite Wastewater System for Seasonal Hunting and Fishing Camp
Let us know how we can help provide a wastewater treatment solution for your campground or RV park.
Request a Quote for Your Campground or RV Park
About the Authors
Allison Blodig, REHS


Engineered Systems Specialist
Allison has been in the onsite wastewater treatment industry since 1997, first as a regulatory official and then in the wastewater treatment manufacturing industry participating in sales, regulatory affairs, design reviews, and training for a national treatment system manufacturer. Ms. Blodig had her own company for 3 years called GYST (Get Your "Stuff" Together) Consulting, specializing in regulatory consulting, market research, and training across the US. Currently she is an Engineered Systems Specialist with Infiltrator Water Technologies, a leading developer of decentralized wastewater treatment technology. Along with a degree in Biology from Benedictine College in Atchison, KS, she has been a Registered Environmental Health Specialist and member of the National Environmental Health Association since She is also very active with the National Onsite Wastewater Recycling Association (NOWRA) and is the former chair of the Technical Practices Committee, current chair of the Conference Committee and participates in the Online Education Committee. She has participated in the NSF Joint Committee on wastewater, participating in task groups and annual meetings. Allison received the Women in Manufacturing award in 2012 and was the 2017 recipient of the Raymond Peat Lifetime Achievement award for outstanding achievement in the Kansas onsite wastewater field.
Aaron Burke, P.E.


Wastewater Engineer



Aaron brings 17 years of experience to the Technical Services team at Infiltrator Water Technologies. He has worked in administrative project management, construction, engineering design, and has started two wholly owned companies. His expertise is in wastewater treatment process design and treatment plant operations. Aaron holds a Bachelor's degree in Civil Engineering from Rose-Hulman Institute of Technology and a Master's of Engineering in Civil Engineering from Norwich University, and is a licensed professional engineer, LEED accredited professional, and certified wastewater operator.
---
Contact us if you have any questions about this blog post.
---
---