FREE WEBINAR: Decentralized Wastewater Solutions – Where On-site Commercial and Municipal Treatment Technologies Meet
This course is approved for
1 credit hour
in:
Indiana - Professional Engineers
Iowa Onsite Wastewater Association - IOWWA - CIOWTS
Massachusetts - Soil Evaluator
Massachusetts - System Inspectors
National Environmental Health Association - NEHA
Nebraska - Onsite Wastewater System Contractors
New Hampshire - Designers & Installers
New York - Land Surveyors
New York - Professional Engineers
Ohio - Sewage Treatment System Contractors
Maine - Land Surveyors
Maine - Site Evaluator
Maine - Voluntary Certification for On-Site System Contractors
Join us for a FREE live webinar hosted by Infiltrator Water Technologies featuring members of our team. Please note all webinar times are Eastern Standard time.
---

Abstract

Decentralized wastewater systems have become an increasingly popular option for engineers and owners when a municipal sewer connection is out of sight and out of budget. Decentralized wastewater solutions have become more abundant and flexible to meet the needs of these types of projects, which may include privately owned commercial jobs, such as restaurants, resorts, and mobile home parks, as well as municipal applications, such as small communities, rural developments, golf courses, stadiums, and airports with flows up to and in excess of 250,000 gpd. This presentation will review design considerations and applications for the three major components of decentralized wastewater systems: 1) Collection, 2) Treatment, and 3) Dispersal.
Speaker Biography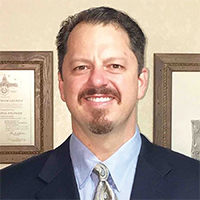 Edward F. Gelsone, M.S., P.E.
Southern Region Sales Engineer
Ed is a Registered Texas Professional Engineer with 20+ years of experience in environmental technologies, specializing in water/wastewater treatment and infrastructure systems for onsite residential and commercial applications as well as municipal and industrial applications. He holds a Bachelor of Science degree in Environmental Engineering from the U.S. Military Academy at West Point and a Master of Science degree in Environmental and Water Resources Engineering from the University of Texas at Austin. He is currently serving as the Southern Region Sales Engineer supporting project development, procurement, and execution for advanced treatment applications using Delta Treatment Systems by Infiltrator Water Technologies. Ed previously served as Senior Wastewater Engineer for a packaged wastewater plant manufacturer, responsible for leading a manufacturing team in the design and supply of packaged and modular wastewater solutions by providing engineering design, marketing support, sales procurement, and project execution for commercial, municipal, and industrial wastewater treatment systems for a broad range of applications in the United States.
More Webinars