Quick4 Equalizer 24 Chamber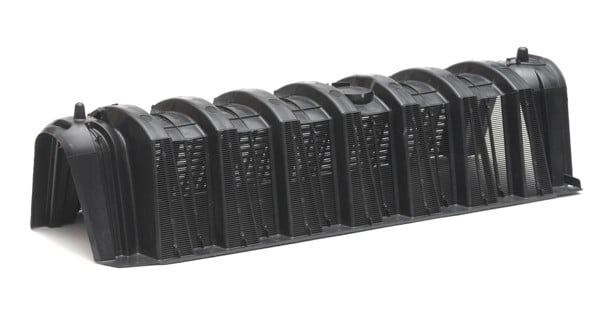 The Quick4® Equalizer 24 Chamber fits in a 18" wide trench and is ideal for curved or straight systems. It features the patent-pending Contour Swivel Connection™ which permits turns up to 15°, right or left. The MultiPort™ endcap allows multiple piping options and eliminates pipe fittings. The chamber's 4' length provides optimal installation flexibility.
Find a Distributor ›
Contact an Expert ›
Manuals, Guides & CAD Details ›
Specifications:
Size
16"W x 53"L x 11"H
(406 mm x 1346 mm x 279 mm)
Effective Length
48" (1219 mm)
Louver Height
9.10" (231 mm)
Storage Capacity
21 gal (79 L)
Invert Height
6" (152 mm)
Benefits:
Advanced contouring connections swivel up to 15°, right or left
Reinforced ribs provide increased structural capability and durability
Compact nesting provides more trench length in an equivalent stack height
Latching mechanism allows for quick installation
Four-foot chambers are easy to handle and install
Supports wheel loads of 16,000 lbs/axle with 12" of cover
Certified by the International Association of Plumbing and Mechanical Officials (IAPMO)
FAQs:
Where can I get local installation code, system designs, and product technical questions answered?
Many installation requirements and options are governed by local codes instituted by the health department in your area. When in question, check with the local health department for specifics and follow their code instructions. Any design or installation questions not answered here can be directed to the Infiltrator Water Technologies' Technical Services staff by calling 1-800-718-2754.
In what types of systems can Infiltrator chambers be installed?
Infiltrator chambers can be used in almost any septic leachfield application. Wherever stone and pipe can be installed, Infiltrator chambers can be used. This includes trench, bed, and elevated mound installations. Infiltrator chambers provide superior treatment capabilities in pressure dosing, level distribution, serial distribution, evapotranspiration, and sand filter applications.
When I install Infiltrator chambers, how much can the size of the leachfield be reduced?
System sizing is determined by each local health department. Typically, health departments have approved sizing reductions of 25 to 50 percent when Infiltrator chambers are specified. Check your local health codes for the specifics in your area.
Can chambers be installed under a driveway or paved surface?
Some health codes do not allow septic leachfields to be installed under impervious surfaces such as driveways. This is because the surface pressure can compact the soil, resulting in a negative effect on the soil's ability to treat effluent (wastewater). Check with your local health department for the specific codes for your area. If this type of installation is allowed, call Infiltrator Water Technologies' Technical Services staff at 1-800-718-2754 for design and installation instructions.
What is Infiltrator Water Technologies' specification for minimum and maximum system cover?
Infiltrator Water Technologies recommends a minimum of 12 inches of compacted cover over the chambers. Maximum allowable cover over the chambers in a trench system is 96 inches. In bed systems, the maximum cover is 48 inches. If the drainfield is located in a non-traffic area, minimum cover can be reduced to six inches. Exercise caution with equipment when installing a system at the 6-inch depth. Infiltrator Water Technologies does offer a line of Shallow Cover (SC) Chambers that allow for six inches of cover with an H-10 equivalent loading rate, however these are only available in specific markets. Always check with your local health codes for specific cover requirements.
Can Infiltrator chambers be installed around obstacles?
Yes. To accommodate existing obstacles in system installation, the Quick4 Chambers allow for 10 to 15 degree turns, right or left.
Can the inspection port opening be used as an inlet?
Yes, on the top of each chamber there is a knock-out area that is typically used for an inspection port. When inletting into the inspection port, a splash plate is needed under the inlet. Use caution when backfilling so as not to dislodge the inlet pipe.
What prevents soil from entering the chamber through the sidewall louvers?
Infiltrator chambers have a patented MicroLeaching™ louver design that corresponds to the angle of the soil. This permits effluent to leach out of the sidewall while preventing soil from entering the chamber.
Should filter fabric be used over Infiltrator chamber sidewall louvers?
Infiltrator MicroLeaching™ sidewall louvers are designed to keep soil out; therefore filter fabric is not needed. Contact Infiltrator Water Technologies Technical Services for additional information at 1-800-718-2754.
Do I need to compact the trench base when installing in sandy soils or fill/mound systems?
When installing the chambers in sandy soils, mound, or fill systems the sand base should be compacted. This gives the chambers a solid footing and does not adversely affect the infiltration rate of the sands.